Automatic Industrial Ultrasonic Cleaners
.
<![if !vml]>
<![endif]> About US cleaning
There is a difference in the position of  ultrasonic (US) cleaning method in comparison with the other methods because of its several
advantages that are not ensured by any other cleaning method:
- high quality of cleaning and degreasing (remove all free impurities)
- suitable for all material (metals, plastics, glass…)
- suitable for interoperational or final cleaning
- no damage of fine parts e.g. electronic parts
- impurities from inaccessible places are removed
- possibility of full process automation
- high surface quality for surface finishing operations (painting, galvanization…)
- influence of subject is eliminated
<![if !vml]>
<![endif]> Range of products
We manufacture and deliver US cleaners from the simplest one-bath manually operated cleaners up to cleaners with several baths
with automatic supply of baskets loaded with parts being cleaned or it may be a complete mechanized cleaning workplace with needed
accessories.
The US cleaners are manufactured with standard tanks sizes or with tailor made tanks sizes (under customer's request) too.
Vast range of accessories – baskets, transport systems, control units, storage tanks, filtration systems, DEMI and DI water units, oil
separators…
<![if !vml]>
<![endif]> Application examples
Engineering industry – various motor parts, connection elements, bearings, furniture fittings, filters...
Metallurgy – moulds, castings...
Optics – spectacles, glasses, frames, lenses...
Rubber-making industry – moulds, various metal parts before gum...
Surface finish – cleaning before galvanization, painting, after polishing, grinding...
Electrical industry – cleaning silicon wafers, various metal electronic parts, PCB, boxes...
Food industry – moulds, boxes...
Repair – car services, watches, water meters...
<![if !vml]>
<![endif]> Description
Automatically operated US cleaning lines are determined for degreasing and cleaning various parts made of various materials at various
industrial areas mainly for their mass producers.
Modular construction allows us to suggest you optimal lines for ensuring all technological requirements or lines under customer's requirements too.
Tanks numbers are designed under dimensions, shape and material of cleaned parts, next under impurities type and under requirements for
their cleanness. All technological tanks are made of high grade stainless steel standard AISI 304/DIN1.4301 or AISI 316Ti/DIN1.4571.
Typical modules for automatic US cleaning lines:
- US cleaning tanks
- Rinsing tanks (can be use for rough cleaning with positioning before US tank)
- Drying module
- Automatic transport system
- Control system
Possible accessories:
- Storage tank for cleaning liquid with possibility of its filtration and oil separation
- Stations for production or regeneration of DEMI or DI water
- Flat or rotary sieve baskets
<![if !vml]>
<![endif]> Automatic lines - examples
<![if !vml]>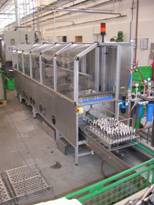 <![endif]>  <![if !vml]>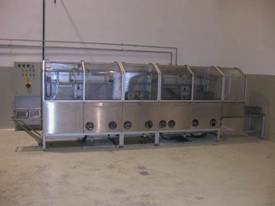 <![endif]>  <![if !vml]>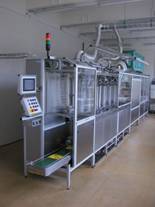 <![endif]>
<![if !vml]>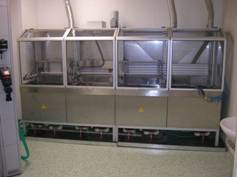 <![endif]>  <![if !vml]>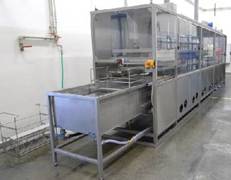 <![endif]>  <![if !vml]>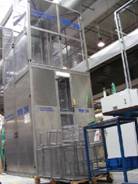 <![endif]>
Possible accessories - examples
Ultrasonic cleaners for cleaning Si wafers after wire saw cutting processes