<![if !vml]>

<![endif]>
Ultrasonic solvent cleaners.
<![if !vml]>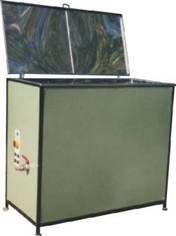 <![endif]>
<![if !vml]>

<![endif]>   <![if !vml]>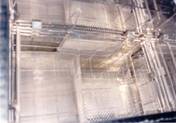 <![endif]>
<![if !vml]>

<![endif]> Description and application
Ultrasonic solvent cleaners, type UC 1MR are determined mainly for cleaning and degreasing of various metal parts (e.g. shafts, gear boxes, bearings, motor parts…)
after and before e.g. machining, polishing, before and after hardening, before galvanization, assembly…The cleaning process is realized under an organic solvents
like e.g. trichloroethylene (TCHE), perchloroethylene (PCHE)…US cleaners UC 1MR are manufactured as manually operated cleaners.
Technology tanks are made of stainless steel 304, which makes them very ling lived and easy to maintain.
The cleaners are standardly manufactured with tank volume 100, 260 (type UC 1MR 260) and 350 l as well as in accordance with customer's requests.
<![if !vml]>

<![endif]> Specification for type UC 1MR 260
US tank inner dimensions: 1 004 x 604 x 810 (LxWxH) mm
US tank volume: 260 l
Frequency: 25 or 40 kHz
HF output power: 2 x 1 000 W
Mains: 3PEN~50Hz, 400V
Note: Special tanks sizes under customer's request.